Concert Tickets Online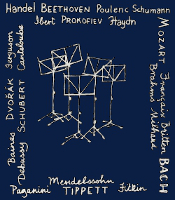 Concerts tickets for both Celebrity Concerts and Choir Concerts may be purchased online via the appropriate ticketing agencies. In the case of Celebrity concerts this is the Chester Visitor Information Centre online ticket agency. For Choir concert tickets it is the Chester Cathedral Box Office. Online tickets are available for purchase from the start of the concert season in September and will be listed on the websites from that time.
Celebrity Concerts: Tickets for Celebrity events may be purchased in advance at Chester Visitor Information Centre, Town Hall Square, Chester 0845 241 7868 or from our online ticket agency Ticketsource https://www.ticketsource.co.uk/chestermusicsociety/events. Celebrity concert tickets can also be purchased at the door or in advance by telephoning: Ticketsource 0333 666 336.
Choir Concerts: concert tickets may be obtained in advance from the Chester Cathedral Box Office at www.chestercathedral.com (tel. 01244 500959). A £1 booking fee applies. Discounts are available for parties of 10 or more : for more information please contact the Choir Ticket Secretary at This email address is being protected from spambots. You need JavaScript enabled to view it. (tel. 07805 475816). Tickets may also be obtained in person or by telephone 01244 500959 and are available on the door on concert day.
Book Choir Concert Tickets Online - Chester Cathedral Box Office
Tickets for Club concerts and Chester Music Society Musical Events are not available online.