Young Musicians of the Year Competition 2017 - Results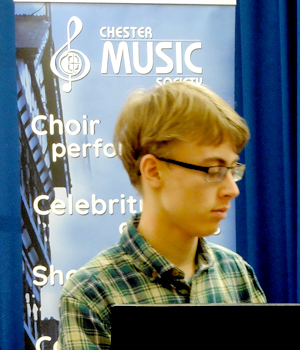 YOUNG TALENT ON SHOW IN CHESTER YOUNG MUSICIAN COMPETITION
Sunday 12th November at The King's School saw another array of young talent at the annual Chester Young Musician competition organised by Chester Music Society. Adjudicator Simon Mercer had a difficult task in adjudicating seventeen outstanding youngsters performing on a wide range of instruments.
Chester Music Society Choir - Open Day

Saturday 2 March 2019, 9.30am
The King's School, Chester
Come and be Inspired by Shakespeare.
Singers in all voice parts and of every level of ability are invited to join the choir for a full day of relaxation, learning and performing Vaughan Williams Serenade to Music and Bernstein Choral Suite from West Side Story
Date: Saturday 2 March 2019. 19.30 am
Venue: The King's School, Chester.
Tickets: £20 including coffe/tea and music hire.
More information available from 0151 336 5088 or This email address is being protected from spambots. You need JavaScript enabled to view it.
Full details and an application form is available: click here
Chester Music Society reserves the right to alter or cancel programmes without notice.
Chamber Music Workshop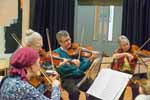 Saturday 7th April 2018
Chester Music Society is once again putting on its popular Chamber Music Workshop for string-based ensembles at Abbey Gate College, Saighton, Chester on Saturday 7th April 2018.
Aspiring amateur string players are invited to participate in a training day, performing in quartets and other ensembles with professional tuition.