Choir AGM 2018- Director of Music's Report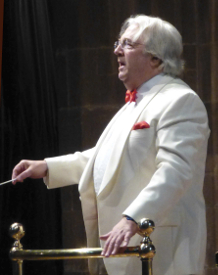 One of my responsibilities is to keep replenishing the Five-Year Plan as we move from season to season which is then referred to the Committee for comment and, hopefully, approval.
For those of you who don't know about this, it is important for all sorts of reasons, artistic, financial, technical, to look ahead at the broader picture and assess our general progress, development and direction. We therefore have a Five-Year Plan of concerts and repertoire in place which is reviewed annually and adjusted if necessary, and in the light of what we know of the plans of other local societies and users of the Cathedral. Each season needs to have a balance of established or popular works, lesser known works which present a challenge to the choir and the audience, works require a demanding budget, works requiring a modest budget, works from different historical periods and from composers of different countries, and so on. It's something I chew on continually and, being an indecisive Libran, causes me some anguish.
When I was considering the works for the 2017 – 2018 season, I decided to look back at some of our most successful concerts of a few years ago and repeat them, pretty much exactly, to see if they would measure the same support from our current audience. It was a tactic which, I'm pleased to report, was very successful and I think I am correct in saying that the two concerts in question, the Opera Gala and the Mozart night, saw an increase in audience numbers above those achieved in 2013 and 2009 respectively.
This is encouraging for many reasons, not least in contradiction of the notion that attendances at classical music concerts is on the decline generally, but it also suggests that our audience base seems to be growing. It is also testament to the professional standards to which we aspire and frequently achieve, which is a huge credit to the dedication of all the choir and the work done by the Committee and supporters. We must never, however, become complacent in our attitude to performance and presentation. It is not possible to stand still. We either fall back or move upwards.
A further encouraging trend has been the record number of auditionees wishing to join us this year, most of whom were successful and of excellent standard.
The first concert of the season was "A Gala Night at the Opera" in which we revisited many of the choruses from our previous excursion into the operatic world, which then had been a first, discarding some of the material which had not worked very well and introducing some light opera with Strauss' Die Fledermaus. The choir sang with great enthusiasm and were well supported with soloists Linda Richardson, Nick Hardy and, Thomas Humphreys, who stepped in at extremely short notice due to the illness of Daniel Shelvey. Everyone who took part enjoyed themselves hugely, as did the capacity audience.
Flushed with success, we then set about our Christmas Crackers preparations, looking forward to welcoming the Revd Richard Coles as our Guest Presenter. He had grown in profile since we'd booked him and his appearance on what people insist on calling "Strictly" (shudders) no doubt helped our ticket sales which, again, presented us with a capacity audience on both nights. It is very pleasing that the majority of the choir sang on both evenings, thus ensuring a consistent standard for our two audiences, and we were supported ably again by the Chester Philharmonic Orchestra.
Our Choir Day in February was based around Mendelssohn's "Elijah" and once again it was good to welcome so many singers from a wide variety of choirs in the North West and beyond. The work is well known to many and, as well as having a jolly good sing, we were able to shape a creditable "performance" in the afternoon. Our "training session" this year was with Martin Bussey who strove to improve our sight-reading and aural skills in an engaging and entertaining manner. He was also good enough to sing in some of Elijah's solos in the afternoon session. Becky Ford masterminded the event again with customary efficiency and verve. It's a huge amount of work and she never complains, well, not much.
At the same time, we were preparing for our concert "An Evening with Mozart", singing the Solemn Vespers (which many members swore blind they had never seen before) and the infamous Requiem Mass, Mozart's last uttering left incomplete. Both works were superbly and sensitively sung by the choir and our excellent soloists, including our old friend Brian Ballantyne-Scott, recently returned from performing "Peter Grimes" in Monaco, who was particularly complimentary about the chorus. We also had the pleasure of a return visit by John Gough playing the A major concerto – probably Mozart's most popular – which he delivered with style and insight. I shall not bore you with the problems that we had in securing a piano for him to play it on; there was a time when I thought he may have to perform it on the kazoo. It was due entirely to the Rottweiler determination of Connie Telford that we ended up with a worthy instrument, and its dismantling and shifting from the platform during the interval provided great entertainment for those members of the audience who couldn't be bothered heading to the Refectory for refreshments. Maybe we should consider interval entertainments for future concerts? Perhaps Clive could do his juggling routine?
In April, we visited "Storyhouse" by way of an experiment, in a Choral Festival with Chester Bach Singers and Chester Male Voice Choir, primarily intended to test out this new theatre complex as a possible performance venue. It was good to join up with the other choirs as a cultural exchange and a wide and varied programme was delivered. I don't think we'll be leaving the Cathedral in a hurry.
It was serendipitous that we had planned "Music for Kings, Queens and Princes" long before Prince Harry decided to commemorate his Great Uncle Edward VIII; the happy couple were unable to join us, unfortunately. Nevertheless, it was a very good concert with a somewhat reduced choir for a variety of reasons. Our audience was not of the scale of our earlier concerts but was, nevertheless, respectable and appreciative. The "organ" concerts are never as popular as those with orchestra, although the addition of a few instruments, in this case brass, gives contrast. His Majesty's Brass Concert played with assurance and were tickled pink to find out that's what they were called. Graham Eccles played with assurance and musicality, which was no surprise to us at all. We are truly lucky to have him on board.
We haven't finished yet. About sixty of our number are looking forward to the choir tour to Lisbon, the first rehearsal of which is on Thursday. The itinerary is exciting and includes a joint concert in Leira Cathedral with Coro Viva Voz, a local female choir. I'm particularly looking forward to visiting a city to which I have not previously been.
A huge amount of work is done by the Chairman and Committee members during a season and it is very easy to take for granted the fact that our concerts are so professionally run. Much of the groundwork is unseen by the membership but vital. I'd like to pay particular tribute to Rob and Jude Greaves, our Librarians, who have had a tremendous amount of material to source, collate and distribute this year. Sourcing all the orchestral sets for the Opera Gala was, in itself, a huge undertaking. Connie Telford somehow manages to charm the Cathedral staff when others would lose their temper, and Clive presides over us all with his "Hail-fellow-well-met" ease. But all the members of the Committee have their roles to play which they do with quiet efficiency.
Finally, many thanks to Graham Eccles and David Taylor, our two accompanists, for all their support at rehearsals and, of course, to the membership for their commitment and, usually, good behaviour.
Graham Jordan Ellis
15 May 2018