Tickets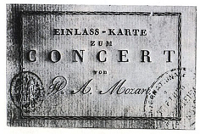 How to Book Tickets
CELEBRITY CONCERTS
Ticket prices are shown with each concert throughout this website.
Tickets may be purchased at the door or in person in advance at Chester Town Hall Visitor Information Centre. Or from Ticket Source: 0333 666 3366 (£1.50 postage fee per booking) and online: www.ticketsource.co.uk/chestermusicsociety
For general enquiries: 01244 678589.
CHOIR CONCERTS
Ticket prices are shown with each concert in the body of this website.
Tickets may be purchased: in person at Chester Cathedral Reception Desk; by telephone 01244 500959; or online: Chester Cathedral website. Payment is by cash or debit/credit card (£1 fee for all card bookings). Tickets are also available on the door on concert night subject to availability.
For information about prices, concessions and group discounts email This email address is being protected from spambots. You need JavaScript enabled to view it..
SHOWCASE CONCERTS
Ticket prices are shown with each concert in the body of this brochure.
Tickets may be purchased at the door only, with the exception that Tickets for the Gala Concert on
9 May 2018 are sold in advance: from 01928 787496 or email This email address is being protected from spambots. You need JavaScript enabled to view it..
Reduced Ticket Prices
Reduced ticket prices are available at all Society events: for under-18s and students in full-time education. The Choir also offers group discounts for parties of 10 or more. For full details please contact the telephone numbers shown on individual concert pages or those listed above.
Purchase Season tickets
A season ticket for the Celebrity Concerts will enable you to attend all six concerts for the price of four, and allow you to reserve numbered seats in advance. More information from 0151 648 3258, 01244 678589 or This email address is being protected from spambots. You need JavaScript enabled to view it.
A Showcase season ticket entitles you to attend all 7 concerts for the price of 4. Showcase Gala concert tickets (9 May 2018) are sold separately. If you buy season tickets for both the Showcase Concerts Series and Celebrity Concerts Series you can save nearly 40 percent on the cost of all 13 concerts.
Download and print the Membership application form and post it as directed.
Venues
Choir concerts are in Chester Cathedral, St Werburgh Street, CH1 2HU.
All other performances are in St Mary's Creative Space, CH1 2DW, (formerly St Mary's Centre) which is located at the top of St Mary's Hill, at the back of the Castle car park on the left.
Parking
For St Mary's Creative Space: evening parking (currently free) is available in the Chester Castle car park off the Grosvenor Roundabout. (CH1 1SF)
For the Cathedral: evening parking (currently free) is available in the Delamere Street (CH2 2AY) and Princess Street (Market) (CH1 2HH) car parks. Be sure to observe the notices in the car parks.
Membership: Savings and Discounts
By becoming a Member of the Society you will be entitled to purchase season tickets for both Celebrity and Club events at a substantial saving. You will also receive a monthly email concerning forthcoming events, and our annual newsletter. You will find a membership and season ticket application form on this website
Wheelchair Access to Venues
All venues are accessible by wheelchair. Please make your needs known when booking tickets so that we can ensure you (and your companion if necessary) are provided with appropriate seating.